Robert Sherry
Partner
Kirkpatrick & Lockhart, Nicholson, Graham
San Francisco, Ca
Mr. Sherry has over 20 years' experience representing and counseling high tech, R&D, aerospace and defense companies in the areas of government contract proposal preparation, negotiation, contract interpretation issues, risk reduction procedures, licensing issues, rights in patents, software and technical data, and a variety of other matters. Mr. Sherry also assists technology companies on due diligence and novation issues associated with acquisitions of companies that possess government contracts.
Mr. Sherry has been instrumental in ushering in sweeping changes in federal, state and local government policies and regulations for purchasing products and services. During 1992-96, he chaired the Commercial Products and Services Committee of the American Bar Association's Public Contract Law Section. In that capacity, he was instrumental in the drafting of the ABA's comments on legislation, regulations, and policies affecting the procurement of technology products and services by the federal government and is a member of the Information Technology Association of America.

1.
Register online.
2. You receive toll-free dialing instructions and a link to the audio symposium's course materials via e-mail, so you can follow along during the presentation.
3. Call the toll-free number on Thursday, September 15, 2005 at 1:00 p.m. Eastern Time. There is no limit to the number of staff from your office who can listen to the symposium via speakerphone!
4. Listen in, follow along with the course materials you've printed out, ask questions and get answers that will help you design agreements that deliver expected results and meet payment and property retention objectives.
One registration fee lets your entire staff listen in! Save money – no travel expenses!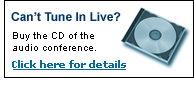 DoD, Dept. of Homeland Security, NASA and increasing numbers of federal agencies are turning to flexible business agreements such as Other Transactions and Cooperative Agreements. These instruments work outside the authority of the FAR to allow both contractors and government agencies to maximize innovation, speed products to market, and solve challenging problems in new ways.
But beware: without a traditional contract structure, the contractor and agreement officer can have differing expectations about procedures, outcomes, and payment. The key to offsetting this problem is knowing what, when and how to negotiate favorable terms and conditions into your agreement.
Invite your proposal writers, contract negotiators, project officers, buyers, contracting officers, financial managers, cost/price analysts, contract administrators, and legal and compliance personnel to uncover field-tested tips in this strategy-filled seminar. Find out:
How to negotiate deliverables to meet buyer expectations
and boost performance ratings


How to set win-win payment milestones


Where the biggest pitfalls lie and how to avoid them


When and how to limit government licenses and data
right claims


Strategies to control auditor access to your financial records


Tips to manage the partnership for success
Plus, we'll leave plenty of time for Q&A so you can address your unique challenges and learn from the guidance of your peers.
SYMPOSIUM MATERIALS
You get a link to the slides so you can follow along with the presentation, links to OMB circulars that govern the agreements and legislation that expands their authority, and AGU's Special Report: OTA's: The 3 Crucial Terms and Conditions to Negotiate.
---
About AGU
American Graduate University is a strategic training partner of the Defense Acquisition University and is a Charter Member of NCMA's Contract Management Learning Center. This seminar qualifies as 2.5 learning hours towards NCMA's CPCM, CCCM, or CCFM credential. For more information on AGU contract management training, go to www.agu.edu.
---
| | | |
| --- | --- | --- |
| Defense Acquisition University (DAU) | | National Contract Management Association (NCMA) |